It's beginning to look a lot like savings! Today only at the DC Collectibles online store, buy one in-stock item, get one (of equal or lesser value) at 40% off during our Ho Ho Holiday Savings Spectacular!(some items excluded from this deal, as marked). See site link below for more details.
Choose from a variety of hot toys and pop-culture collectibles, an assortment of media--including video and film, magazines, books and comics--and other sundry odds and ends. You never know what we'll be adding to the collection, so check back early and often! And don't let the name fool you. We carry a lot more than just DC Comics! See below for a small sample of the goods and wares available for purchase right now at http://dccollect.com
Signed McFarlane Spawn Comic Con Exclusive 2002 Dark Ages Viking Bloodaxe Figure [Pewter Finish]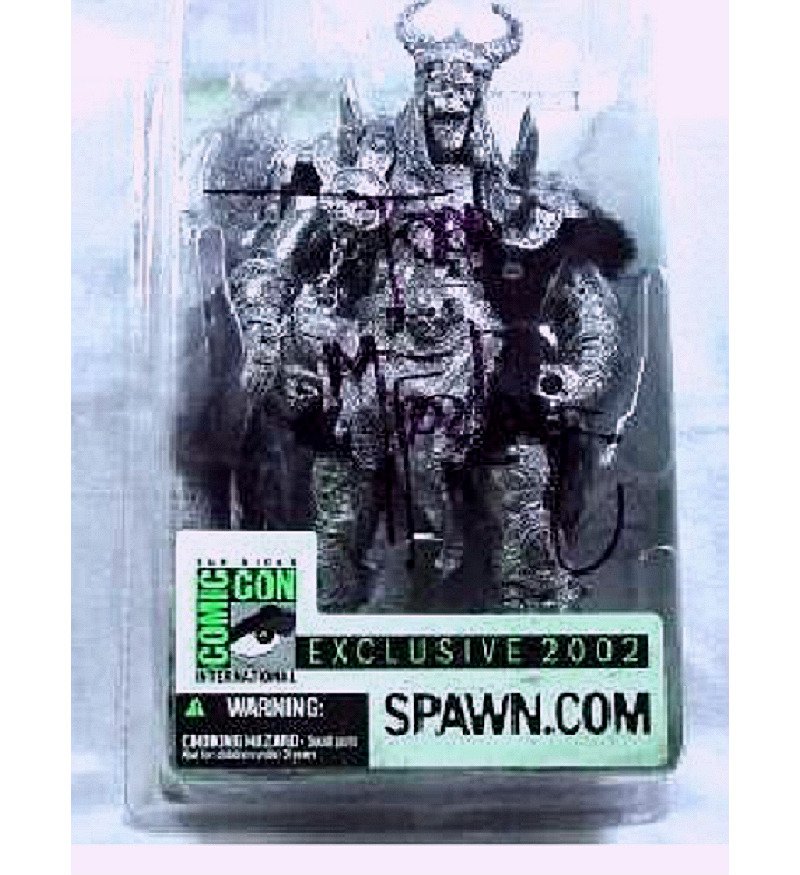 Special Edition McFarlane Collector's Club 2002 SDCC/NYCC Comic Con Convention shared exclusive R3 "Spawn The Bloodaxe" Silver Pewter Finish Variant action figure from Series 22: Dark Ages - The Viking Age, personally hand-signed by Todd McFarlane with black ink felt-tip pen.

Details: This limited edition figure is offered in a special pewter finish deco with variant head portrait exclusive to attendees of the San Diego Comic-Con International and New York Comic-Con conventions, and briefly the McFarlane Collector's Club. Sold Out and retired.
More photos & details click here:
http://bit.ly/2nD9qXt
___________________
Mattel N0487: Dark Knight Batpod Bike 2008 DC movie replica 1/12 Batman Batcycle Vehicle
Authentic official 1:12 scale limited edition reproduction model of the Dark Knight's "steed", built using scans of the original film model and utmost attention to accuracy. A near exact duplicate of this unique urban warfare vehicle from the Christian Bale/Nolan Batman Trilogy. This movie batcycle was first seen erupting out of the ruins of the crashed Tumbler Batmobile after being shot with a rocket launcher by the Joker.
___________________


Philips Respironics CPAP Sleep Apnea Humidifier System REMstar Plus Bonus Travel Bag, Extras


For the treatment of adult Obstructive Sleep Apnea, this set includes several accessories to make your OSA treatment as convenient and comfortable as possible. Bundle includes: Philips Respironics CPAP Machine, 6 ft. (1.83 m) flexible heat hose, filter cap, carrying case zipper retrieval unit and user instruction manual. Lot also includes manual for the Automatic Inflation Blood Pressure Monitor Model HEM-741CREL and User's Guide for the ResMed Ultra Mirage Mask.
____________________
Evil Dead 3: Army of Darkness Hero Ash Figure Bruce Campbell-McFarlane Movie Maniacs-Spawn-Neca
Good. Bad. He's the guy with the gun (and chainsaw hand). Hail to the King baby! As seen in the 1992 cult classic horror film (third in Sam Raimi's trilogy) the fan favorite S-Mart rogue is loaded with film-authentic detail and ready for any deadite! Features a finely sculpted Bruce Campbell portrait with weathered look and authentic blood splatter paint--his signature look from the end of ED2: Dead by Dawn and beginning of Army of Darkness. The figure has poseable arms and head, 12-gauge double-barreled Remington (aka boom stick), holster with harness, interchangeable chainsaw and mechanical gauntlet hand, exclusive mini Evil Ash, movie poster replica and Necronomicon (The Book of the Dead).
For more photos & details, please visit:
http://bit.ly/2nCqPQ4
_____________________
Power Rangers Dx 4-pc set: Turbo Battlized Morpher-Ninja Storm 5" Action Figures-New
Power Rangers Deluxe Set of 4 Turbo Battle Tri Battlized / Lightning Morpher Battlizers: Crimson Thunder, Green Samurai, Navy Thunder & Yellow Ranger action figures based on characters from the live action superhero Sentai Japanese tv series "Ninpuu Sentai Hurricanger" (i.e. Power Rangers: Ninja Storm), with Evil Space Aliens vs. Super Megazords!
Each deluxe transforming figure set assembles to create a fully armed armored Ranger with ultra laser, robot ninja bird vehicle or Turbo Ninja vehicle.
For more photos & details, please visit:

http://bit.ly/2Akbg5l
_______________________
Beast Wars Transformers Deluxe 2-pc Figure Set MOC, Original Hasbro Kenner 1996 MOSC



New/Sealed Rare Set of 2 Original 90s Vintage Kenner Hasbro Transformers Beast Wars (1996) MOSC (Decepticon) Evil Predacon Blackarachnia D-8 Black Widow Spider double agent vs. (Heroic Autobot) Maximal Wolfang figures on first edition U.S. sealed cards, C-7.5+ old stock, complete with full profile tech spec file cards - VHTF additions to a collection.
For more photos & details, please visit:
http://bit.ly/2iFcg97
______________________
Luke Skywalker Star Wars Unleashed Saga 2003 RotJ Jedi 1/10 Statue, Hasbro 84797

Feel the power of the Force Unleashed with these meticulously designed artist interpreted sculptures, capturing some of the most compelling characters in their most raw electrifying moments, in style and scale of such popular lines as the Kotobukiya ArtFx and Hasbro 6 inch The Black Series. This carded collectible figure comes with detailed display stand and lightsaber force effect, inspired by the Return of the Jedi throne room battle scene. Luke's anger is unleashed upon the Sith Lord Darth Vader amidst the Emperor's gleeful menacing laughter.

For more photos & details, please visit: http://bit.ly/2iFdu4d
____________
Star Trek Phaser Type II x Communicator prop replica set 1992 TNG cosplay

_____________________________
_____________________________